What's happening at "The Rest"
Angel Tree Program 2020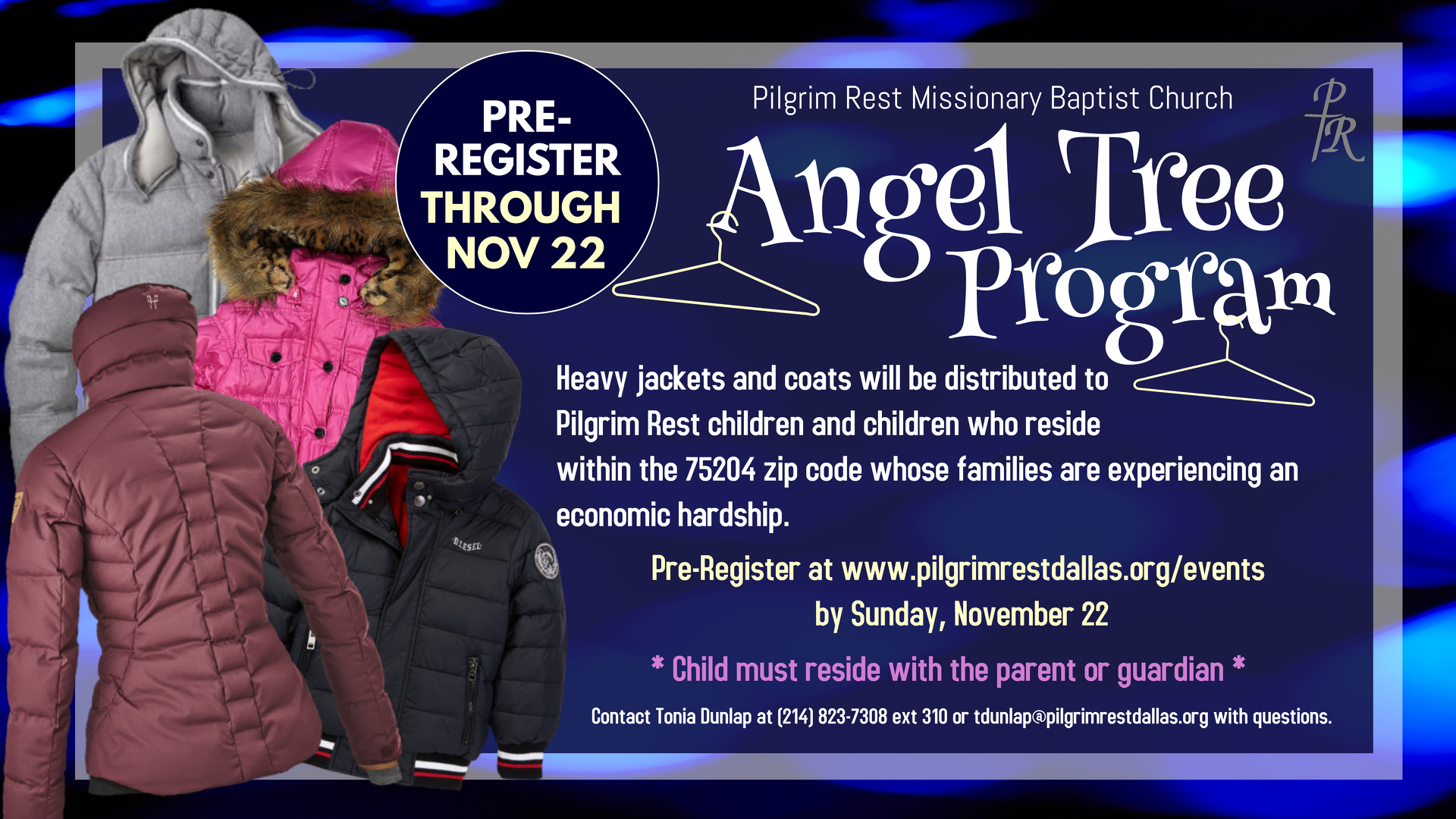 Sign Up Today!
Because of the COVID-19 pandemic and the continued emphasis on sheltering in place (when needed) and social distancing, this year's Angel Tree program will be different. Pilgrim Rest will distribute heavy jackets and coats for newborn through 12th grade children who reside in the 75204 zip code or Pilgrim Rest children. The program is designed to assist the primary parent, guardian or caregiver who may be experiencing an economic hardship the Christmas. Proof of guardianship required.
Please complete the sign up form below. A confirmation, including the status of the request, will be sent via email. Call Tonia Dunlap at (214) 823-7308 ext 310 with questions.
May the God of hope fill you with all joy and peace as you trust in him, so that you may overflow with hope by the power of the Holy Spirit. (Romans 15:13)
God bless you!
6AM Daily Call
Prayer Moves God! God is honored when we come to Him,
praying in agreement with each other and the will of God.
Join us Monday - Friday from 6:00 am - 7:00 am, as we pray for: Protection, Plague, Unity, Medical/Sickness/Illness; President Trump; Wisdom; Direction/Decision Making; Pilgrim Rest Church Family; and Families Impacted by Coronoavirus.
Marriage Enrichment Class

---
Sundays | 9:30 am - 10:30 am | PRMBC Conference Room
Engaged and newlywed couples are invited to join this 8-week pre-marital session geared towards building a marriage that will truly glorify God. Register today! Contact Rev. & Sis. Preston & Calva Johnson at [email protected] with questions.