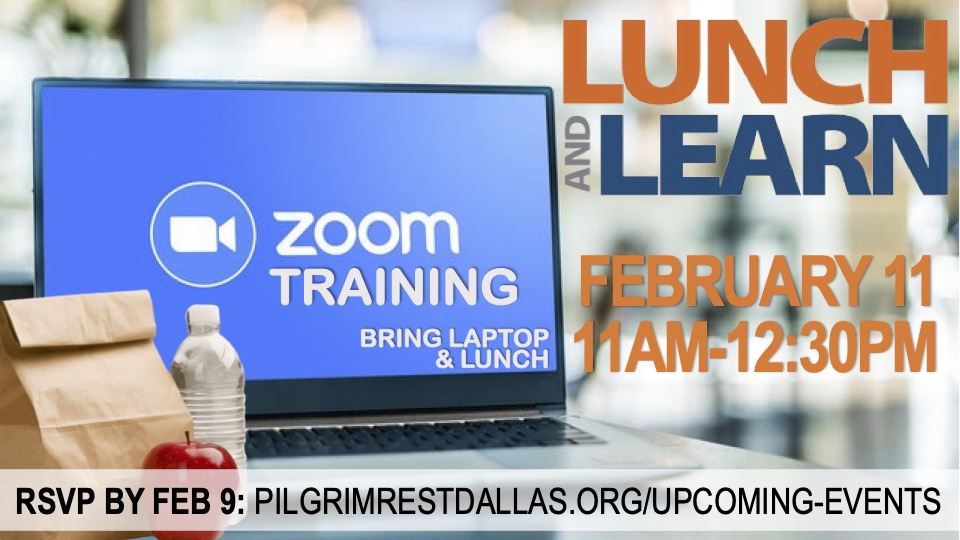 Hello Leaders!

Thank you for signing up for this week's LUNCH AND LEARN. I am excited to share with you what I know about ZOOM :-) This will be an INTERACTIVE training to equip leaders who host zoom ministry meetings. If you do not host or coordinate zoom meetings, this class will not be beneficial to you.

Below is a CHECKLIST to prepare you for Saturday's Zoom Training. Training begins at 11:00 am. Please ARRIVE EARLY enough to set up your work station and log into zoom. We will begin and end ON TIME :-) I plan to arrive by 10:00 am, with STARBUCKS in hand, to offer help if needed.

We will go over the basics of zoom and cover features that I use on a regular basis. If there is something in particular you'd like to cover, please let me know ASAP.

Thanks again for signing up. Do not hesitate to call/text/email wih questions. See you Saturday!
---
ZOOM TRAINING CHECKLIST

Fully Charged Laptop or iPad...check √
Keyboard, Mouse, Mouse Pad (if you use them)...check √
Extension Cord (if you have one)...check √
Paper and Pen/Pencil...check √
Lunch or Snacks (if you want them)...check √
Covered Drink w/Lid or Top...check √
Pilgrim Rest is a church built on the principles of the Holy Bible. We strive to be compassionate in our love, excellent in our service, holy in our living, and passionate in our worship. Through the teachings of Dr. Curtis W. Wallace, an emphasis is placed on mending the spirits of those who are lost and broken hearted.
"WE BELIEVE" Christ is the head and the Holy Spirit is our Leader.
As a part of the Body of Christ, Pastor Wallace's vision for the Pilgrim Rest Missionary Baptist Church is to see every un-churched person given the opportunity to accept Jesus Christ as their personal Savior. Instructing them to submit to training in Christian Education and become equipped to carry the Word of God back into the community - meeting people at the point of their need.
To prepare people for the work of the ministry through Biblical teaching and training.
To bring people to a point where they can feel a sense of belonging and a sense of self-worth
Offer an atmosphere where all parishioners will not feel intimidated through a non-traditional worship experience.
Develop a tutorial program to assist our youth in academic studies.
Provide job-training opportunities.
Meet the need of our congregation as well as the community through our Social Services Center.